Setting up a USB stick for ArchivistaBox Mini (Windows)
Attention: The following instructions only apply to ArchivistaMini, but not to AVMultimedia. With AVMultimedia you can use Etcher to create a USB stick.
In response to many requests, we hereby describe the sequence required for setting up a bootable USB stick for Windows using an ISO file. There are basically two steps.
1. Step 1: Formatting the USB stick with FAT32
A FAT32 stick must be used, otherwise the booting procedure will not work. Use of the HP Disk USB Storage Tool is also strongly recommended and this can be downloaded free-of-charge on many websites, including: PCTipp.ch. The tool includes an EXE file and has a size of less than 100 KB. Following program start-up, insert the stick. The stick will then be automatically recognised and can be formatted (the quick-format option is strongly recommended).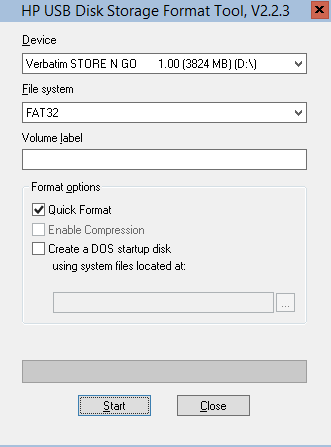 The USB stick is then ready to store the ISO files created in the Shop.
2. Step: Creating a stick with UNetbootin
The program can be obtained here. Additional note: The program is also available for Linux and runs trouble-free under the ArchivistaBox (apt – get install unetbootin). Start the program after downloading and select the ISO files.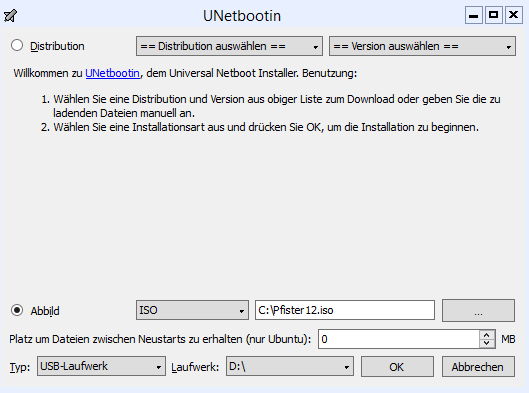 The operation is then triggered by clicking on "OK". When setting up the stick, you will be asked whether menu32.c already exists. Confirm with "Yes". The stick is now bootable.
Result: Simply creation of a bootable Linux stick.
After conducting my little tests with various sticks, I came to the conclusion that sticks of any make and size can be used. On larger sticks (we were using 60 MB), partitioning is automatically limited by the HP tool to 8 GB. Using sticks created in this way, the ArchivistaBox Mini can be booted in circa 20 – 30 seconds (even with a slow stick). The variant also works with a burned CD, of course, but in this case start-up may take between 1 and 2 minutes.
P.S.: Those unable to find the above program under the given links can download it directly from our site (file http://archivista.ch/winstick.zip). In this case the files must be unzipped prior to starting the program. The instructions here are provided for those preferring to work in Linux.
P.P.S.: Considering the usual difficulties that crop up when creating a bootable USB stick for Linux in Windows, the method described here is very "humane", in particular a when compared with instructions that recommend the use of "diskpart" or other unspeakable tools.