Solution out of the ArchivistaBox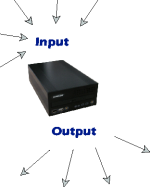 It doesn't matter of you are looking for a solution for yourself, for your department, for the whole company or for an internationally active corporate group – thanks to the ArchivistaBox concept you are always on the safe side.
We introduced the Archivista solution to the market with the claim "Clear away the paper". Whether it's a matter of a few files of paper or complete shelving, the ArchivistaBoxes can cope with any volume. For this we focus on database-related solutions, which provide the following benefits:
No laborious filing of individual documents
Convenient and comfortable searching in entire archives (incl. full text searches)
Centrally controlled authorisations for users and user groups
The ArchivistaBox supplies everything you could need to enable secure and convenient management of documents over a long period of time (data guarantee over 30 years!). Even large document volumes can be processed easily. Whether you ultimately operate with a few hundred documents or complete archives with millions of documents, the ArchivistaBox is always there for you.
All the ArchivistaBox components
Where other solutions offer endless piles of additional tools, the ArchivistaBox already contains the complete scope of functionality. Whether you simply want to generate searchable PDF files, or if you want to virtually print documents (also with an ERP connection) in the archives, or want to connect a network scanner, the complete functionality is available at the press of a button with each and every ArchivistaBox.
And to mention a few highlights of the WebClient: unlimited number of databases, multi-tenancy archives, up to 80 user specific fields, automatic OCR, barcode and form recognition when scanning documents, data upload, PDF download of every document, graphics import from all standard commercial digital cameras, internal user administration, with LDAP or HTTP request. The following options are available for saving and securing data: tape drives, USB sticks and hard disks, NFS and Windows drives as well as RSYNC. Backups can be carried out automatically. For long term storage it is always possible to connect a DVD/CD burner and a ready-to-use publication (self-supporting archives) can be generated from every archive with the Live-operation.